Vending Machine Refurbishment
Refurbished vending machines are the core of our business. It's our expertise.
At Vendtrade we buy and refurbish thousands of used vending machines every year. We do this for two reasons: to make vending affordable and to limit the market's impact on the environment.
When buying a brand new vending machine, many companies will part exchange their old with us in order to lower the cost of their new machine. We will then refurbish the used machine and resell it at a low price to buyers on a tighter budget. This saves the seller and the new buyer money while preventing old, unwanted, or unusable machines from ending up in a landfill.
Many customers might have concerns about purchasing a refurbished model, especially when we sometimes buy vending machines that are not in working order. However, over the last thirty years we have built our reputation on the superior quality of our refurbished machines. Our reputation is so critical to our success that we would never put it on the line. For our customers, this means we would never sell them a machine which isn't in full working order.
How We Refurbish Machines
We have a team of highly skilled engineers who work wonders with machines that are no longer in use. Bringing them back to life can be a simple process of repairing a machine's computer system, or it might mean a comprehensive overhaul of a machine's internal mechanics. No matter what the condition, our team make every effort to bring a non-working vending machine back to its former glory.
Typically, we do the following with every refurbished machine we sell: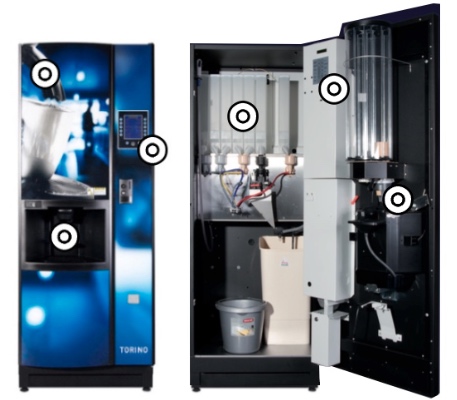 Thoroughly inspect all mechanics and moving parts to identify any issues

Repair faults and broken parts

Deep clean the machine's internal components and external body

Re-gas any refrigeration units

Fix or touch-up cosmetic blemishes

Rigorously test full-functionality
Once the refurbishment has been carried out, we are so confident the machine will function like new that we offer a 10 YEAR WARRANTY so our customers are protected from any future faults.
In the unlikely event that we're unable to fix a machine, we'll remove all usable parts to be recycled into future refurbishments, preventing good quality components from going to waste. You can read more about our effort to recycle old vending machine parts here.
All this work means you can be sure any refurbished machines you buy will deliver a top-quality vending experience for your staff or customers.