Micro Market Vending Machines
Vendtrade are pleased to offer a 24/7 micro self-service food store for the Workplace.
Healthy meals, delicious snacks and refreshing drinks. Served through a sophisticated electronic payment system that takes cash, card or phone payments,
A vast choice of products for your valued staff. Stock your micro market with breakfasts, microwave meals, fruit selections, salads, cereals, soups, dairy products, great fresh bean from a state of the art coffee machine and so much more!
VENDTRADE MICRO 24/7 STORE MARKETS OFFERS MORE VARIETY
The layout of a micro market can be customized to suit different workplaces and therefore no space is wasted. They can fit in a corner or take up a whole room. For employers, micro markets provide the opportunity to offer healthier, fresher food choices and change up the traditional breakroom. Employers can support more diverse dietary needs and non-food items can also be offered. This perk saves employees from buying food at restaurants and saves employers from needing to employ staff to run a cafeteria. Micro markets make warm, fresh food more accessible to round the clock workplaces.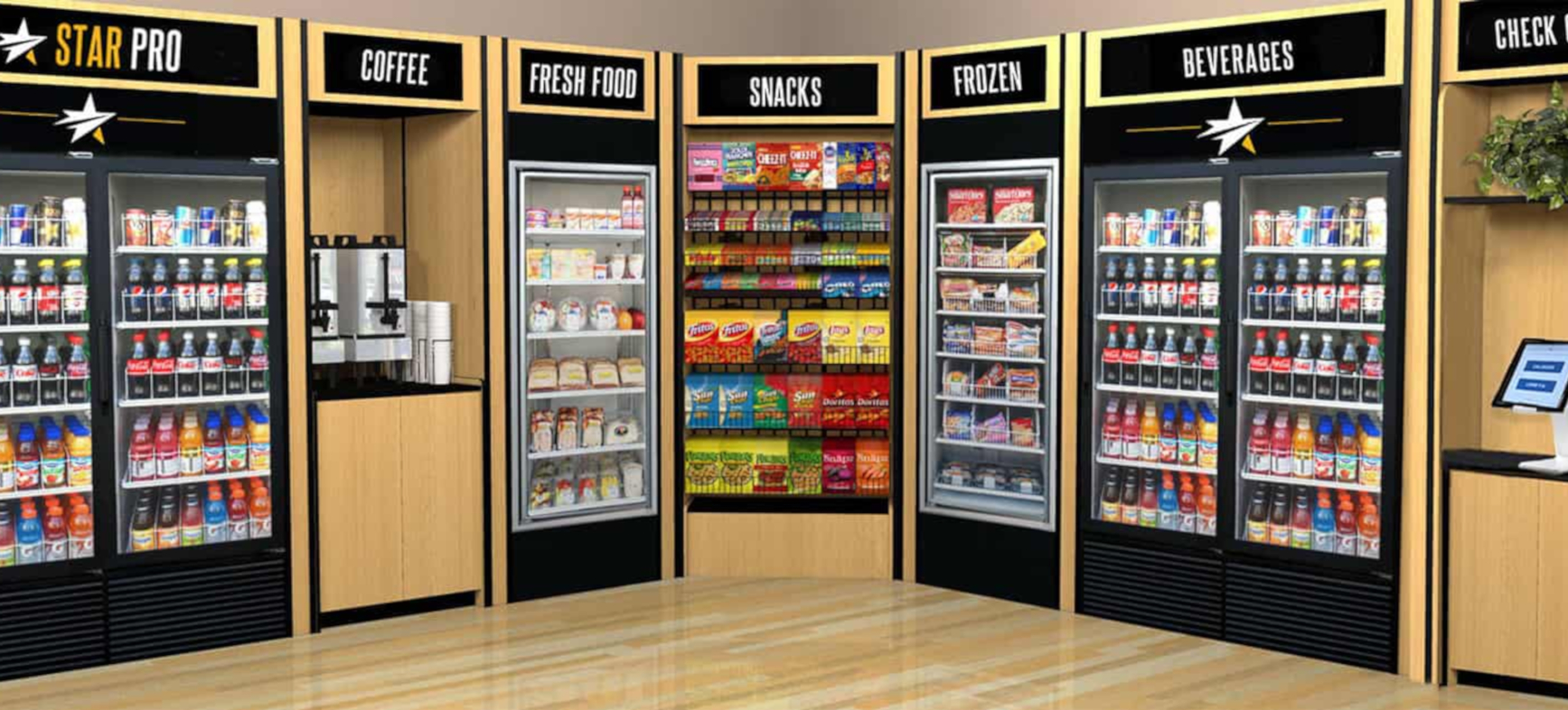 VENDTRADE MICRO 24/7 IMPROVE WORKPLACE SATISFACTION
Introducing a micro 24/7 market demonstrates that companies care about their employees and supports a work life balance and a productive environment. Workplaces that choose a micro market have been known to improve satisfaction and having one attracts top talent.
Micro markets supports a work life balance in fast-paced work environments. This perk is conducive to a lot of high paced workplaces where employees often want to grab food quickly. Micro markets cater to this pace because they rely on self-service and cashless payments, which speeds up the sales, making for a better customer experience.
EMPLOYEE CARDS AND PREPAID ACCEPTANCE
Another factor that makes micro markets highly suitable for many workplaces is that they can accept prepaid cards, and employees don't have to remember to bring their wallet to the breakroom to buy something to snack on. Employees can be given preloaded credit on an employee card or post payment cards
GOING FORWARD
Traditionally micro markets have been marketed to companies with 150-200 employees however now they have been found to work well in companies with 50-150 employees too.




TV, Film and Entertainment