A unique and easily installed unit designed to save energy and money.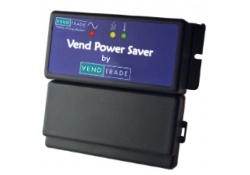 The Vend Power Saver (VPS) is a one-of-a-kind vending accessory, available only from Vendtrade. It has been purposefully built to prevent energy consumption when a refrigerated vending machine is not in use, saving you money. The VPS is compatible with almost any refrigerated machine and can be programmed to fit your exact requirements, which are dependent on the location of your vending facilities.
How it Works
When installed, the VPS connects to a timer placed in the vending machine. Once the machine has been idle for 15 minutes, the VPS dims or switches off the vending lights and turns off the machine's air compressor. In this inactive state, the VPS will allow the machine's temperature to drop only when a customer is present or a specific temperature is required for product freshness (cold drinks, perishable food, etc). Once activity has been detected the machine will turn back on to complete the vend and run a full cooling cycle, preventing compressor strain.
Potential Savings
The amount of energy you can save with the VPS device is heavily dependent on the location of your vending facilities. Our tests and data from VPSs in active machines show that energy savings can be anywhere from 24% to 76%. Due to the nature of the device, if your machine is located in a busy environment and in constant use, your savings are going to be lower than if your machine is located in a quiet office. Generally speaking, locations with are unoccupied during nights and on weekends present the best opportunities for savings, although any location where a machine is likely to be unused for more than 15 minutes will benefit from a VPS.
How to Get One
It's simple. If you'd like to have a VPS installed in your machine and start saving money, get in touch today.