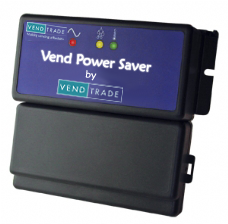 An easily installed unit that starts saving you and your customers money from the day it goes into service.
The VPS unit from Vendtrade is designed to save energy and money it can also prevent expensive compressors from failing. Whether your Vending machines sell crisps snacks drinks or all three the VPS is going to recover its purchase price in a very short time. The argument that vending companies don't need to worry about electricity costs does not hold water, vending sites are becoming more aware of the cost of running a vending machine. Already major vending customers are looking at ways to reduce these costs, if you are competing for a vending contract then the supplier that offers lower running costs will have a better chance of winning and holding that contract.  A badly controlled refrigerator unit will use excess power every time it is switched in. Running a vending machine that has a blocked condensor or poor airflow can cost a lot of money.  The VPS unit will prevent this. An unregulated machine will use 4000 Wars of Electricity per year a machine with a blocked condensor twice that amount.
Refrigerated vending machines operate 24 hours per day, seven days a week. In addition to consuming 2,500 to 4,400 kilowatt-hours (kWh) of energy per year, they add to cooling loads in the spaces they occupy. The typical cost of electricity   is around £0.10 pence per kilowatt Hour which equates to annual cost per machine of£250 to £440. To add to this Electricity prices increase annually
As a  responsible person concerned about the environment what steps can you take to reduce the carbon foot print of vending machines.Contact us at energysave@vendtrade.co.uk
We can offer impartial device. You may only need a £15.00 time clock. If this is the case we will tell you. We are not in the business of selling you something you don't need .If you need an energy saving solution that protects perishable or delicate stock then the VPS is an excellent energy saving solution.
Fitting a Vend Power Save can lead to big savings, it will  allow the machines to go to its lowest temperature on only when a customer is present or when the compressor must run to maintain a  product that will degrade above a certain the  temperature.
What makes the VPS unit unique?
Activity sensing.  The VPS is programed to fit your exact requirements turn off the compressor and dim or switch of the lights in the vending machine when no one is around. In addition, a temperature control powers keep the products cool enough.
In typical operation, power is cut to the vending machine after the area has been vacant for 15 minutes. The device is designed so that a machine in a room that's around 25degrees Celscius will go into energy saving mode two hours if the machine is not used.  If activity is detected the machine is turned back on to run a compressor cycle, needed.
The control logic ensures that after the machine is repowered, the compressor is allowed to run a complete cooling cycle before it is powered down again. A sensor also determines whether the compressor is running and prevents the machine from shutting down until the cycle has been completed. Both of these features ensure that a high-head-pressure start, which would strain the compressor, never occurs. An indicator light goes on if the compressor has been running for more than two hours—a signal that maintenance may be required.
Savings for vending machines equipped with these devices range from 24% to 76%, depending on usage patterns, occupancy in the area, and ambient conditions. Occupancy sensors can be most cost-effective when the machine is located in such a way that people trigger the sensor only when they want to purchase something.
Location. Vending machines located in cool and shaded areas tend to last longer, use less energy, and demand less power. Ambient conditions, such as high temperatures or direct solar gain, can make the compressor work harder to maintain the appropriate environment for snacks and beverages.
How to make the best choice
Talk to us. Whether you are in the middle of your contract or entering a new one, request  vending machines  fitted With  The Vend Power saver –

Focus on location. The parameter that has the greatest impact on energy savings is location: the higher the traffic, the lower the savings. For example, in one test, A VPS was fitted  to a machine located in a busy hotel lobby, relatively low energy savings resulted—roughly 25%. Generally speaking, locations that are unoccupied during nights and on weekends present the best opportunities for savings, although some energy can be saved as long as the area is unoccupied for more than 15 minutes at a time. Teachers' lounges, break rooms, office buildings, and school cafeterias are good potential sites for saving energy with occupant sensing.
The temperature of the space where the machine is located also affects energy consumption. Lower ambient temperatures typically increase energy savings.
Assess how often the compressor runs. Other factors that affect energy savings relate to how often the compressor needs to turn on to keep the products cool. If a room's temperature is warmer than normal, the compressor will have to turn on more frequently. Likewise, if one machine has a product that is popular, that machine will be stocked with room-temperature products more often, causing the compressor to work harder to cool the product.
Because vending machines, like refrigerators, emit heat during operation, reducing "on" time will also reduce total air-conditioning loads when the vending machine is located in an air-conditioned space. It is unlikely, however, that occupancy sensing will reduce peak air-conditioning loads, as those loads generally correspond with peak occupancy rates.