Shop 24: Vending Machine or Convenience Store
Who needs a shop when you've got a vending machine?
Shop 24 is an exciting new vending concept, allowing a wide range of goods to be sold in a huge variety of locations, 24 hours a day, every single day, through a hybrid vending machine/convenience shop.
A Shop 24 vending machine can provide as wide a variety of goods as you'd find in a shop, ranging from snacks to painkillers, from meal ingredients to toiletries. These can be sold in larger quantities or pack sizes than many standard vending machines, meaning a Shop 24 machine can sell items such as a loaf of bread, a box of cereal or a bottle of wine. However, a Shop 24 comes with all the convenience of a vending machine, allowing customers to quickly and easily select what they want, without having to walk around a shop trying to find the goods they need.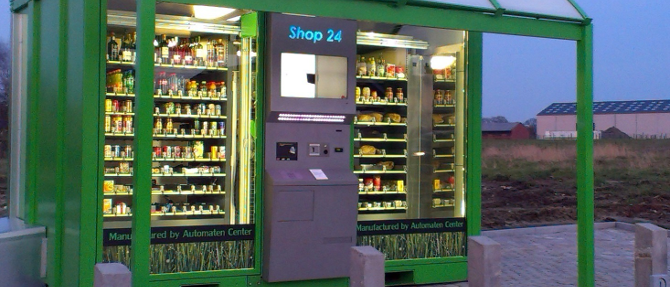 Shop 24 vending machines are suitable for a variety of locations, particularly those where there is a potential customer base at times outside of normal shop opening hours. These include university campuses, train stations, campsites and many more. Many retailers are finding that a Shop 24 machine can provide increased sales by opening up new trading times and providing all those essential items that anyone might need at any time of day or night.
For the customer, Shop 24's provide the facility for buying essential goods at all times of the day, without having to travel large distances to find a shop that is open. Meanwhile, for the retailer, a Shop 24 increases the available trading times, reduces staff costs and lessens security concerns for staff working on site during the night.
With a Shop 24 machine able to sell up to 300 different product selections, it truly does combine the variety of goods a customer would find in a shop with the convenience of 24-hour availability.