Vending Machine Sustains Large Village
How one vending machine keeps the residents of a sleepy village stocked up on the essentials.
Vending machines have been topping the news articles this year with the launch of the first pot dispensing vending machine in Colorado, USA. But machines have made their mark in the newspapers closer to home here in the UK as well. Last month the BBC ran a story about a corner shop with a difference in a little village in Derbyshire.
Clifton said goodbye to its longstanding local corner store 12 years ago and residents had missed its presence, with the elderly feeling the loss more keenly. Due to the distance from other stores and supermarkets, Clifton villagers who did not drive could not easily pop out for a forgotten loaf of bread or pint of milk. The lack of buses passing through the village didn't help either, with the nearest supermarket more than thirty minutes away on foot.
But local resident Peter Fox decided to invent a new way of shopping for Clifton – by designing a corner shop vending machine!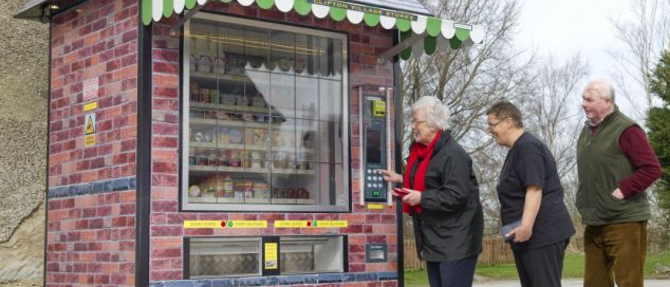 The Speedy Shop, which Fox created and manufactured with his own hands and now contains patented technology, dispenses all kinds of products ranging from milk to stamps, toilet rolls, tins of beans, dog food, and plasters. The custom-designed machine can even safely dispense eggs.
"We've designed the machine around the product," said Fox. "We've been very surprised how many people have used it and not just people from the village, we've had people from Mayfield and Ashbourne."
It seems the Speedy Shop has been a hit in the local community, with the everyone from the elderly to the young making use of it. Though this will come as no surprise considering the machine offers a wide range of choice and provides a key service to an otherwise remotely connected village.
And, as an added bonus, the locals can even check stock levels before setting foot out of the house.