Luce X2 Touch, the Future of the Vending Industry
Welcome to the future of customer vending.
Say "Hello" to the Luce X2 Touch TV vending machine. Or, more accurately, let the Luce X2 say "Hello" to you. Developed by Rhea Vendors and supplied by Smart Vend Solutions, the Luce X2 is the world's first machine to introduce facial recognition technology. In other words, it can learn who you are and what you like to eat.
While this might be the push you need to rethink your eating habits, you don't need to be too concerned about your privacy just yet. "It's not as if it's going to spy on you," said David Wilson, who is the sales director for Smart Vend Solutions. "It brings a personal aspect to shopping, rather than, 'I'll have a number 44 with two sugars."
The Luce X2 is fitted with motion sensors that automatically launch a video greeting from a smartly-dressed Italian fellow, after which a personalised menu appears based entirely off of a user's previous selections and preferences. (It's the facial recognition that makes the latter possible.) When the motion sensor detects a customer's face, the system will look at previous orders by users with matching biometrics, providing a complete purchase history by the time the video intro has finished playing.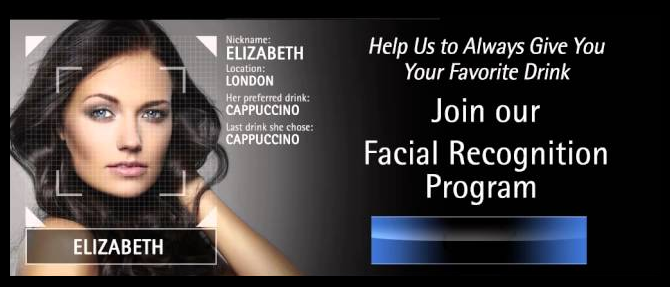 The good news – or bad, depending on what you think about privacy – is that the Luce X2 implements cloud technology, meaning a customer's face will be recognised by all Luce X2 machines no matter how many they've actually used.
In other words, you could buy a Mars Bar from a machine in Manchester and get recognised by a Luce X2 in Skegness.
While this is a scary thought that comes with a few privacy concerns, the machine's capabilities have many real-world benefits. The Luce X2 could restrict sales for products which are age-restricted, hospitals could prevent patients from accessing foods containing certain allergens, and many businesses could implement loyalty or reward schemes for repeat customers.
Once the privacy and buyer freedom issues are ironed out, the Luce X2 could lead the way for vending innovation.